High Cocktail
Laat je verrassen door de Mojo's HIGH COCKTAIL!
3 verschillende cocktails, met bij elke cocktail heerlijke warme en koude hapjes voor € 32,50 per persoon.
(Het is niet mogelijk om gerechten aan te passen, er wordt uitsluitend rekening gehouden met allergenen)
De High Cocktail is dagelijks te bestellen tussen 16.00 – 20.00 uur.
Wil je reserveren?
Reserveer eenvoudig online of bel 072-5207608.
TIP!
Zoek je een origineel kado? Geef een High Cocktail! Er zijn kadobonnen verkrijgbaar in ons restaurant.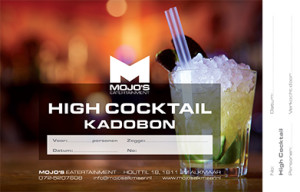 Wil je eens wat anders probeer dan de HIGH COCKTAIL?
Bij Mojo's Eeatertainment kan je ook genieten van een HIGH WINE, HIGH GIN of HIGH BEER.